About Turkmenistan
Turkmenistan information. Turkmenistan history. Turkmenistan pictures. Map of Turkmenistan. Emblem, Flag and Shtandart of Turkmenistan. Pictures of Turkmenistan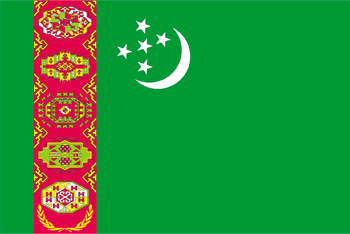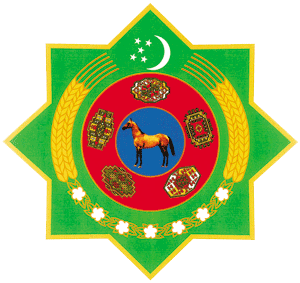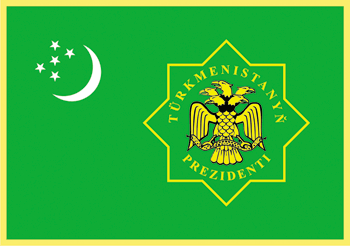 Turkmenistan is situated in the very heart of Central Asia, between the Caspian Sea in the west and the great Amu Darya River in the east, and from the Aral Sea littoral steppes in the north to the Kopet Dag mountain range to the south. Turkmenistan is an independent state; founded in 1991 after the disintegration of the USSR, five years later it attained a unique political status which was recognized by the United Nations Organization. The founder of the State and former national leader of Turkmenistan, President Saparmurat Turkmenbashy clearly specified the character of his country and its place in the sophisticated geopolitical space with a capacious formulation of "permanent neutrality". Upon his death in 2006, new President-elect Berdymukhammedov has, for the most part, continued Turkmenbashy's political course.

According to historians' assessments, the history of civilizations which have existed in this land throughout the past covers almost five thousand years. Remains of those vanished cultures can be found here almost everywhere: in the desert and the foothills of mountains, along the channels of dry rivers and in caves. Traces of human activity have been preserved in the form of implements, domestic utensils and real works of art made of stone and bone, ceramics and metal, including bronze, silver and gold. But it is the architecture which recollects the distant ancestors of the Turkmen, beginning with the earthenware houses, sanctuaries and formerly inaccessible fortresses of the ancient world to the luxurious palaces and temples of the Middles Ages. Certainly, few things that local towns were renowned for escaped destruction and remain intact today. The Biblical truth that everything is good in its season has been eloquently confirmed here.
Turkmenistan at a glance
Official Name: Turkmenistan
Capital: Ashgabat
Population: 5 169 660 (2012)
Total area: 488,1OO sq. km
Density: 10 people per sq. km
Languages: Turkmen, Russian, English
Religions: Muslim 85%, Eastern Orthodox 10%, other 5%
Ethnic mix: Turkmen 78%, Uzbek 9%, Russian 6%, Kazakh 5% and others 2%
Government: Single party republic
National currency: Manat

The guest is higher than the father
Turkmenistan is the home of some of the World's oldest civilizations, having made a significant contribution to the development of World culture. Modern Turkmenistan's borders first appeared in the world around the same time as India and the Middle East. Historical sources prove that in the 3rd-2nd millennia BC two large states, which were consolidated nations living far from each other in the desert and river valleys, were established on the territory of present-day Turkmenistan.

Known as Scythians, Massagets, Saks, and Dakhs throughout Asia and Europe, our ancestors created powerful, mighty states uniting many peoples over a long period of time. In all, the Turkmen established over seventy large and small states throughout their legendary history in all parts of Asia and Eastern Europe. How did our forefathers govern the lands they ruled? How did they manage to preserve peace and order?

There is only one answer: the steady character of a Turkmen and the tender harmony of his soul. Turkmen have at all times remained courteous people devoted to the traditions of hospitality. They have always treated a guest as a messenger of Allah. Hence, there is a proverb: "The guest is higher than the father". Being people of word and honor, Turkmen have always fulfilled their obligations under treaties and agreements concluded with other states. "Any Turkmen, if he had given his word, would break it in no way, even should it threaten his life and freedom", wrote a traveler of the distant past in amazement. Tour Transportation
Depending on the size of groups, we use different types of vehicles.
- For large groups, air-conditioned tour buses (40-45 seats) are provided.
- For smaller groups, air-conditioned minibuses are provided (3-9 seats).
- To individual travelers we offer passenger cars (1-2 persons).
- For some routes, flights are available (from Ashgabat to: Mary, Turkmenabad, Turkmenbashy, and Dashoguz).

Transportation Air: International carriers flying into Ashgabat include Lufthansa and Turkish airlines, which fly 3 and 4 times a week respectively, usually reaching Ashgabat late at night. Lufthansa stops over in Baku (Azerbaijan). Turkmenistan Airlines flies to London, Birmingham, Frankfurt, Beijing, Bangkok, Dubai, Abu-Dhabi and Istanbul at slightly more competitive rates. Further, there are daily connections to Moscow and one or two flights to other central Asian and CIS capitals, such as Tashkent and Kiev. Local flights are reasonable and have a good safety record on their frequently scheduled flights between Ashgabat and Turkmenistan's regional centers.

Rail: There are no international trains between Turkmenistan and other States. Daily departures are available to Turkmenabad, Mary and Turkmenbashy, while trains leave for Dashoguz every other day.

Climate
Turkmenistan has an arid desert climate with extreme summer heat and sub-freezing winter temperatures. Turkmenistan enjoys a dry, continental climate, with very hot summers (rarely below 35°C and occasionally up to 50°C in the southeastern regions of the Karakum Desert). Turkmenistan enjoys an average of 250 sunny days annually. In the south of Turkmenistan the climate is also slightly more continental than in the north and temperatures seldom drop below 5°C. Northern areas, near the Uzbek border and Khorezm (Dashoguz), can become very cold in winter with temperatures dropping below -20°C. The best months for moderate temperatures are April and May for the beautiful blossoming deserts and mountains. September and October are great for an abundance of fresh fruit and vegetables, in the autumn harvest season. There is snow in the north, as well as above 1,000m in the mountains in January and February.

Time
UTC + 5 hours (UTC stands for Universal Time Coordinated).

Customs
Permission from the Ministry of Culture is required to export carpets or other objects of art. Carpets produced before 1975 may not be exported. Export certificates for carpets are issued by the Museum of Carpets, which seals the carpets and issues export certificates, after the appropriate fee has been paid in manat currency (amount depends on the size of carpet).The best place to buy carpets is Tolkuchka Bazaar.

Communications
Turkmen language belongs to the Turkic group of languages (closely related to Turkish) and has been the official language since 1990. It is therefore now used in all official state and literary matters. The Cyrillic script used during Soviet times has gradually been discontinued, in favor of the Latin alphabet. Turkmen, Russian and English are the most widely known languages.

Religion
Freedom of worship was introduced in 1989. The majority of the population is Sunni Muslim. As Islam was introduced by the dervish order, Sufism is still evident in parts of Turkmenistan. This is a branch of Islam which believes in mysticism and treats all secular matters with contempt.
Islam is a part of the new national identity (evident, for instance, in the new flag) and plays an important role in the everyday life of the people. Nevertheless, most Turkmen have adopted western customs and habits.
They are also very tolerant of other religions. Religions: Muslim 85%, Eastern Orthodox 10% and other 5%.

Health & Hygiene
It is essential to observe the same health precautions in Turkmenistan as for any country. One should not drink tap water. Hence, hot tea, coffee and bottled drinks are safe to consume. It's also advisable to avoid meat, fish or poultry which have not been well cooked, unwashed fruit, raw vegetables and non-pasteurized dairy products. It is recommended to buy all food products in local supermarkets.
As there is a shortage of medicines and personal hygiene items in Turkmenistan, it is recommended to pack a well equipped first aid kit, as well as most toiletries.

Currency
The Manat is the currency of Turkmenistan. It was introduced on November 1, 1993, replacing the Russian ruble at a rate of 1 manat = 500 ruble. The ISO 4217 code is TMM and the manat is subdivided into 100 tennesi. The abbreviation m is sometimes used, e.g., 25 000 m is twenty-five thousand manat.

On January 1, 2009 the new manat was introduced with ISO 4217 code TMT.

Old Manat is not acceptable as a payment from 01.01.2010 but till 2013 will be changed into new manat at local banks without exchange fees.

There are fixed exchange rates for USD: 1 USD - 2 manat 85 tenge (buy: 1-2.8430, sell: 1-2.8560) in Turkmenistan.

Exchange bank offices are available at 15 places within Ashgabat and at the airport there is 24 hours exchange bank office (in the city too there is one).

For other currencies it depends the world exchange rates on USD to other currencies.

All major currencies are changeable at some banks in Turkmenistan.

1 manat = 5,000 old manat
5 manat = 25,000 old manat
10 manat = 50,000 old manat
20 manat = 100,000 old manat
50 manat = 250,000 old manat
100 manat = 500,000 old manat
500 manat = 2,500,000 old manat

1 tenge = 50 old manat
2 tenge = 100 old manat
5 tenge = 250 old manat
10 tenge = 500 old manatv
20 tenge = 1,000 old manat
50 tenge = 2,500 old manat

Rugs & Jewelry
In order to take Turkmen carpets and jewelry out of the country you need to present an official receipt and registration form from the State or Hotel shop where you bought the items to customs officials. Items purchased otherwise, such as those bought at Tolkuchka Bazaar are subject to a documentation procedure that requires our assistance and takes a little more time. Many antique souvenirs, especially silver, and items dating back as little as 20 years are entirely restricted from export.

Dress
Practical, light clothing is quite sufficient in Turkmenistan. More elegant dress is advisable for business meetings or social events. Light cotton clothing is advisable in the hot summer months, while warm attire - a hat, gloves and boots are essential for the cold winter. One should not forget that Turkmenistan is a Muslim country, even though the people are very western in their ways and there are no strict rules to observe.

Culinary Delights
The cuisine of Turkmenistan is very similar to that of other Central Asian countries (especially Iran) and predominantly comprises rice, vegetables, and various meats (mutton, lamb, beef and poultry).
Meals often begin with soup. A popular soup is chorba, meat and vegetable soup. Plov is the national dish. It basically consists of rice, mixed with mutton, onions, carrots, spices, raisins, peas or quinces. Poultry is sometimes used instead of mutton. Manty are small dumplings, filled with lamb and steamed. Ku'urma is lamb cooked in its own fat; Ichlekli - meat and onion pies, cooked in hot sand. Gutap, a meat filled pie, potatoes, spinach or pumpkin is a local favorite. Turkmen people like to drink "gok chai"- green tea with dried fruit. Herbs may also be added to the tea to give it flavor, such as mint...

Nature
According to natural conditions, Turkmenistan is located across three main natural landscape zones: deserts, oases and mountains. 13 different natural areas may be distinguished in the country: plains 15%, mountains and foothills 12%; water and non-soil formations (talus, rocks, and precipices) occupy the majority of the country's surface - 73%. The Karakum desert occupies the northern and central part of the country (about 80% of its territory).

The highest point in Turkmenistan is Ayrybaba Peak of the Koytendag Mountain Range (3,139 m); the lowest point is the Akchakaya depression in the northwest of the Zaunguz Karakum (-81 m). The length of Turkmenistan's coastline on the Caspian Sea is 1,200 km.

The wildlife of Turkmenistan is marvelous. The Kopetdag mountains harbor Central Asia's most thriving population of leopards and mountain sheep; the only remaining wild population of Kulan is found in the Badkhyz nature reserve, together with other large carnivores, leopard, hyena, lynx and a thriving population of gazelles and mountain sheep.

Turkmenistan holidays

1 January - New Year's Day
12 January - Memorial Day
19 February - State Flag of Turkmenistan Day
8 March - International Woman's Day
March 20-21 - Nowruz Bayram, national spring holiday
First Sunday in April - "A Drop of Water-A Grain of Gold" Festival
Last Sunday in April - Turkmen Racing Horse Festival
8 May - Day of Commemoration of the National Heroes of the 1941-1945 World War
9 May - Victory Day (World War II)
May 18-19 - Day of Revival, Unity, and the Poetry of Makhtumkuli
Last Sunday in May - Turkmen Carpet Festival
Third Sunday in July - Galla Bayramy Festival
Second Sunday in August - Turkmen Melon Day
Second Saturday in September - Day of the Workers in the Oil, Gas, Power, and Geological Industry
Second Sunday in September - Turkmen Bakhshi Day
6 October - Day of Commemoration and National Mourning ("Earthquake Commemoration Day")
October 27-28 - Independence Day
First Sunday in November - Health Day
Last Sunday in November - Harvest Festival, Good Neighborliness Day
12 December - Day of Neutrality and Day of Student Youth

Oraza (Ramadan) one month Muslim fasting period, approx. 01-30.08.2011 and 20.07-19.08.2012
Oraza Bayram (Eid ul-Fitr) one day Muslim end of fast holiday, approx. 30.08.2011 and 19.08.2012
Kurban Bayram (Eid ul-Adha) three day Muslim holiday, approx. 6-9.11.2011 and 25-28.10.2012



More useful links: